Auditions for the 2023-2024 season are by video submission for all instruments except percussion.
Please record your audition in a quiet, well lit space with your camera set up four to six feet away from you. You and your instrument must be visible in the recording. Violin example. Cello Example.
For those auditioning for an orchestra or wind ensemble: Please record your audition in the following order
1. Scales (number and type vary. See auditions requirements for specifics)
2. Orchestral excerpts (if needed) in the order listed on the excerpts.
3. Solo of your choice, with no accompanist. Please limit the solo to between 2 and 5 minutes.
The entirety of your audition should be recorded in one single, unedited video
Please upload your video to YouTube and title it "Student Name" "Instrument". Then mark it as either "Public" or "Unlisted" and submit the URL using the form below. Do not mark as "Private"
Results will be sent via email.
| | | | |
| --- | --- | --- | --- |
| Instrument Family | Application Due Dates | Video Auditions Due Dates | Results Email Sent |
| Jazz | May 27 | June 5 | June 23 |
Tips for making a good audition video
You do not need to book a concert hall or large space. Recording can be done at your house, teacher's house, church, etc. Just make sure you are in a well-lit, un-cluttered, quiet space.
Please don't have a ceiling fan running above you or set up in front of a window, both these things will distort the image.
You don't need to hire a recording engineer, but if you are using your phone an external microphone is recommended.
Position the camera so it captures all of you and your instrument. The camera should remain stationary the whole time. No zooming in and out, etc.
Make sure the camera captures all of you and your instrument correctly. Some computers have a "mirror mode" setting that flips your image. Make sure that is turned off so the conductors don't think you are playing your instrument backward.
Do not make edits to your performance. If you make a mistake you either need to re-record the whole thing or live with it. You can't just re-record 2 measures in the middle of the piece.
Dress appropriately. You don't have to be in full concert dress, but sweat pants and a tank top don't convey the image of professionalism you want. Think dressy casual.
No need to introduce yourself nor composer/title before the performance, that will be in the form you fill out when submitting your recording.
Make sure you watch and listen to the recorded video before sending it to us.
---
If you do not have a YouTube account, here is how to create one and upload your video.
Go to YouTube.com and click 'sign in' in the top right corner of the page and log in to your Google account

Once there click on your google account icon and select "Create a Channel"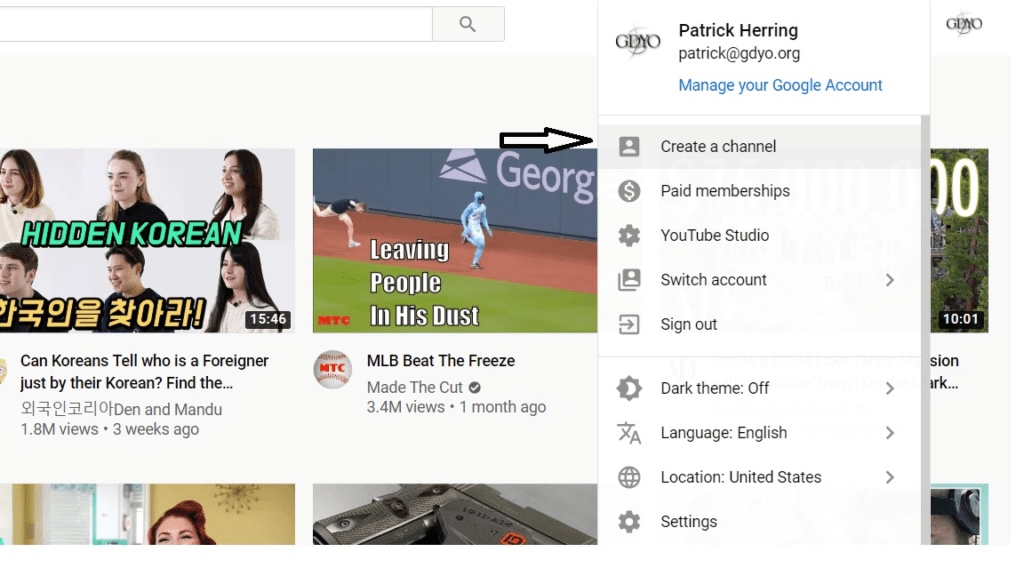 You may set up your channel as you choose, or simply scroll down to the bottom of the page and select "Set up later" Once your page is created, simply click on the button that says. "Upload Video"
Please follow the instructions to upload and title your video: STUDENT NAME, INSTRUMENT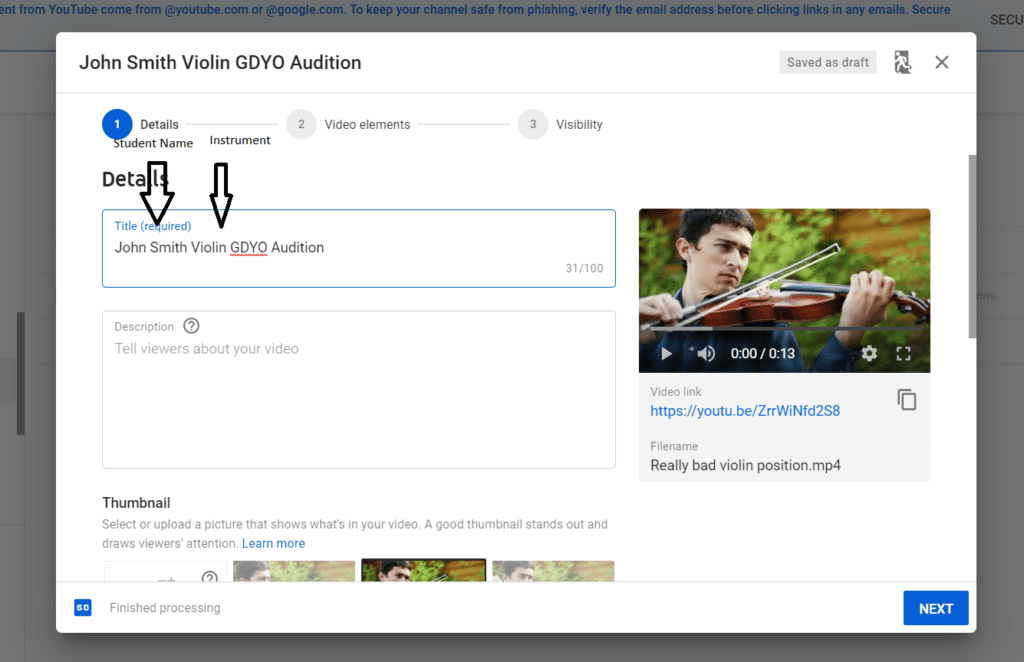 Please list the video as either Public or Unlisted and copy and paste the link onto the form above.
Do not list video as private as the link will be shared with more than one conductor.
Do not forget to hit save to complete the process.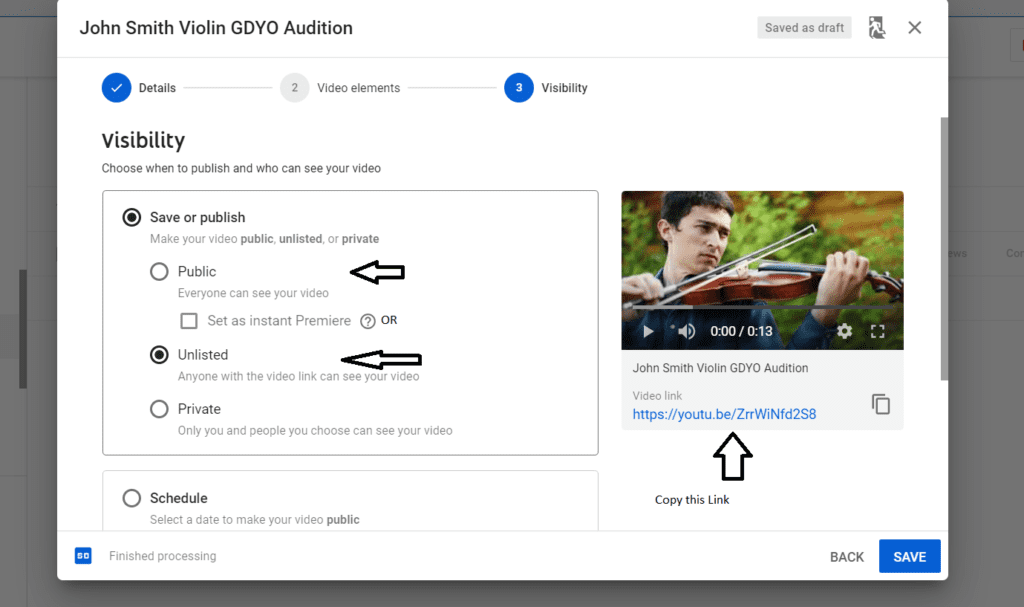 If you don't already have a Google account set up, you'll need to create one before you get started on YouTube. To do this, simply follow these steps:
Head to YouTube.com
Click 'Sign In'
Now, choose the option to create a Google account
Follow the steps to create your Google account
Now, you're all set up with a Google account and can create a YouTube Channel to upload your video.